UK Power Strip 4 Outlets Extension Socket UK Plug with on/off Switch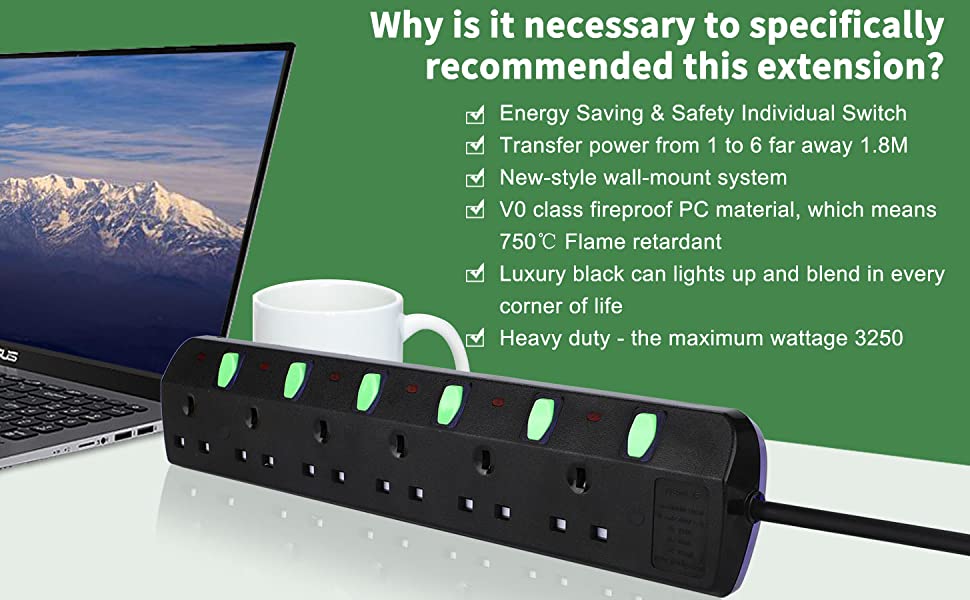 ---
※ Fireproof Construction: Use PC material to make the mainboard, V0 layer of protection.
※ 1.8M Multiple Extension Lead: Extension the power from 1 wall socket to 3 sockets in 1.8M area. Thick cable support max load 13A 250V 3250W.
※ Switched Extension Lead: Have individual switches and light for each outlets, make electrical visible and controllable. The standby devices need not be unpluged.
※ Home/Office Power Accessories: The TISDLIP extension lead can work with telephone/TV/kettle/aquarium/toaster/computer/printer/bluetooth speaker etc, one good
power accessory.
※ Wall Mounted Extension Lead: Manage your desk and far away from danger. Using the screws TISDLIP provided, put through the extension lead and do a stable fix.

TISDLIP 3 Gang Extension Lead with Individual Switches - 1.8M White


「 Product Function 」
Plug in several gadgets in the TISDLIP extension lead.

Be a good partner of electrical wall socket.

1.8M distance supply the currents.

Home/office necessaries. Can be used to connect phone / PC / TV / lamp/ fan / kettle / refrigerator / fishbowl / printer etc
「Superior Construction」
BS1363 standard electrical extension

Adopting PC material rather than ABS material to bulid the solid & sturdy fireproof manboard, V0 class retardant.

3* 1.25mm² copper cable make a stable connection for you.

Individual switches and light for each outlets.

Bevel face make switches operation more easily.

Enough distance between each sockets.

Child-protected safety door
「Specification」
Rated Current: 13A

Rated Voltage: 250V

Rated Power: 3250W

Power Cord: 1.8M (included plug)

Power Socket: 4 Sockets
Advanced Point of TISDLIP Extension Lead


Quality Power Cord
Nickel Plating Pin - TISDLIP plug more conductivity, durable and beautiful by add nickel material to cover copper pin

ASTA Certified UK Plug - for UK market

3*1.25mm² Copper - support max power 13A 250V 3250W

7.8MM Diameter - survive better in the heat than other extension and more solid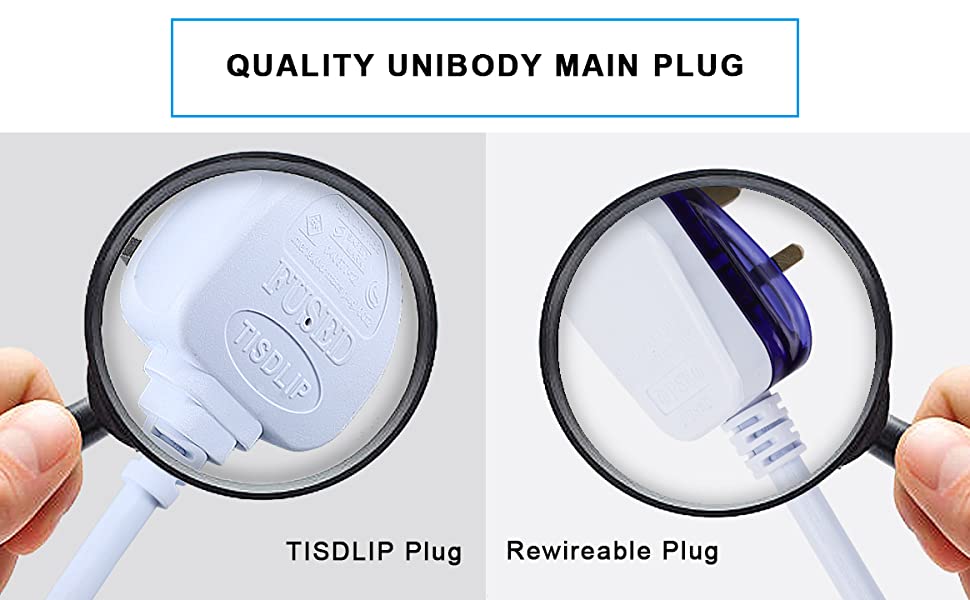 Quality UNIBODY Main Plug
What is worth mentioning?
TISDLIP plug is UNIBODY. Machines help with this process, has less error when producing.
Through the comparison between these two sample, the result shows that UNIBODY sample is more structured, making it more secure for power supply.